This is the perfect gauge to complement your metal and woodworking machine setup. It helps you set blade heights, router bit depths, fence positions etc.
Measurements are shown in metric or decimal imperial and fractional imperial and converts the reading to each with the push of a button. The reading can be set to zero at any point so can be used for relative and differential measurements.
Features:
1.Horizontal&vertical measuring.
2.Table saws, router tables, and hand routers work great with this gauge
3.60mm wide aperture&accurate to 0.1mm.
4.Locking screw for holding measurement.
5.Large LCD easy to read
6.Self standing for setting cutter depth on router tables and low profile backfence adjustment.
7.Displays mm, decimal and fractional inches
Technical DATA:
Measuring Range:
Height:0~80mm (0~3 1/8" )
Depth:0~50mm(0~2" )
Working Temperature:0°C~+50°C
Working Humidity:< =85%RH
Working Currency:<100μA
Resolution:0.05mm(0.002" )
Accuracy:0.1mm (0.004" )
Repeatability:0.1mm (0.004" )
Auto power off 5 minutes.
Battery:CR2032 3V Lithium Battery
Power Life:>1500 hrs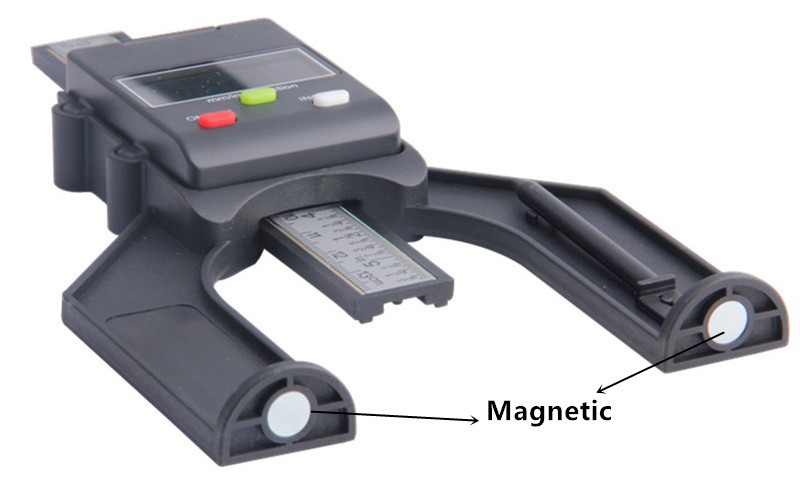 Specifications:
| Range(mm/in) | Order No. | Permissible Error | | Resolution |
| --- | --- | --- | --- | --- |
| 0-80mm | 1168 | ±0.1mm | | 0.05mm |