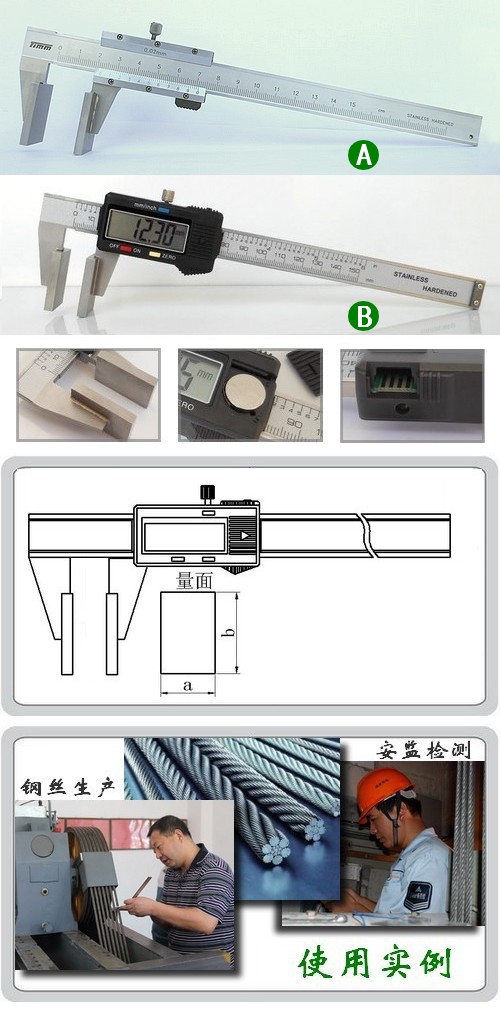 The Broad measuring face Caliper is designed for measuring the wire rope, hoisting cable,which have rugged surface. It also measures the thickness of soft material like rubber, sponge, etc. The caliper also refers to duck mouth caliper. The jaws consist of two parallel steel plate which it can hold the wire rope.
Features:
1.Broadened measuring faces are mainly used for measuring the diameter of the wire rope to ensure the measurement for safe.
2. Hardened stainless steel measuring faces are wear resistant.
3. Zero-setting at any position.
4.Measuring faces dimension can be customized, as large as 50mm*50mm Its broad faces/jaws are convenient for measuring the diameter of wire rope.
5.With locking screw.
Specifications :
| | | | | |
| --- | --- | --- | --- | --- |
| Measuring Range | PartNo. | Resolution | Limit Error | Broad Faces Dimension a*b |
| 0-150mm | 1121-150A | 0.01mm | ±0.03mm | 20*30mm |
| 0-200mm | 1121-200A | 0.01mm | ±0.04mm | 20*30mm |
| 0-300mm | 1121-300A | 0.01mm | ±0.05mm | 20*30mm |
| 0-150mm | 1121-150B | 0.01mm | ±0.06mm | 30*40mm |
| 0-200mm | 1121-200B | 0.01mm | ±0.06mm | 30*40mm |
| 0-300mm | 1121-300B | 0.01mm | ±0.07mm | 30*40mm |
| 0-150mm | 1121-150C | 0.01mm | ±0.08mm | 50*50mm |
| 0-200mm | 1121-200C | 0.01mm | ±0.08mm | 50*50mm |
| 0-300mm | 1121-300C | 0.01mm | ±0.10mm | 50*50mm |