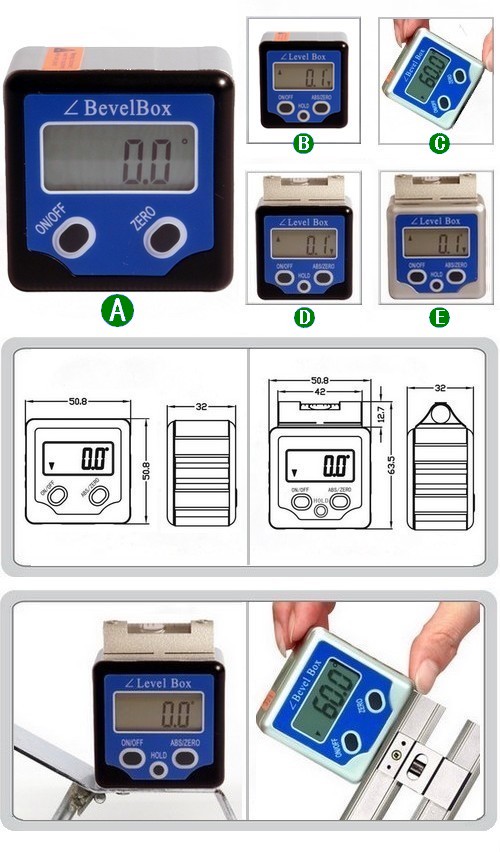 > Large LCD display for easy reading. > Small size, light weight, easy to carry and operate. > With magnetic disks in the bottom measuring face , it can be stuck to the workpiece to be measured.
Digital Bevel Box is a universal angle gauge or inclinometer with a 180°measuring range, a 0,1° resolution, and a repeatability of the measurement of ±180.00 degree.
Features:
1. Measuring plane containing disk magnet can stick to the surface to be measured.
2.Works great fir miter saws and table saws.
3. Sets the angle of jointer fence and bacd saw table.
4.Machine cone bevel measuring and bevel measuring in processing.
5. Telecommunication industry:Radar anten angle calibration,elevation measuring for secondary planet antenna and television receiver.
6.Automobile :four-wheel location,pavement control and leveling for contruction vehicles.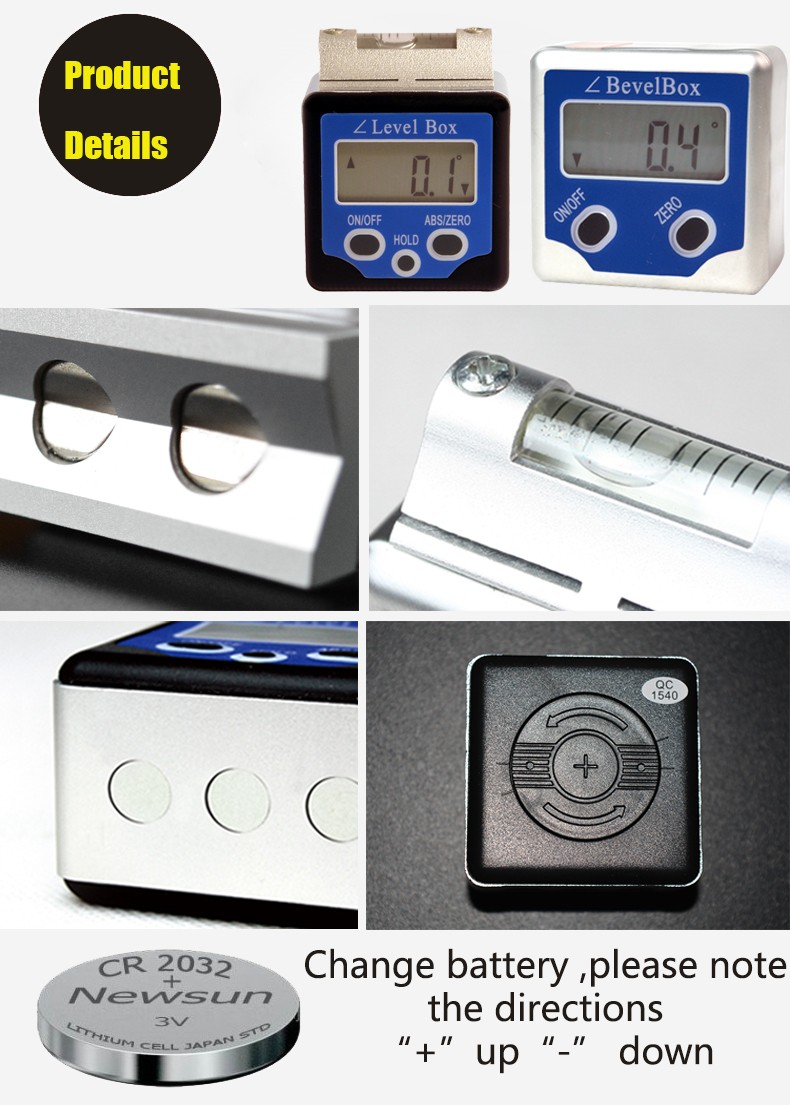 Specifications:

| | | | | |
| --- | --- | --- | --- | --- |
| Order No. | Measuring Range | Resolution | Accuracy | Remarks |
| 4101-1 | ±180° | 0.1° | 0.2° | 2 keys. Plastic frame house |
| 4101-2 | ±180° | 0.1° | 0.2° | 2 keys. Metal frame house |
| 4102-1 | ±180° | 0.1° | 0.2° | 3 keys. Plastic frame house |
| 4102-2 | ±180° | 0.1° | 0.2° | 3 keys. Metal frame house |
| 4103-1 | ±180° | 0.1° | 0.2° | 3 keys. Plastic frame house with high accuracy vial. |
| 4103-2 | ±180° | 0.1° | 0.2° | 3 keys. Metal frame house with high accuracy vial. |
| 4103-2V | ±180° | 0.1° | 0.2° | 3 keys. V Shape Measuring Plane. Metal frame house with high accuracy vial. |